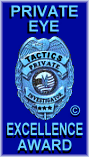 CONGRATULATIONS!
We have reviewed your website and felt it deserving of the Private Eye EXCELLENCE Award ©. The judges at TACTICS Investigations believe you have a fine website which deserves recognition for not only your hard work, but the positive contribution it offers to the Internet community as well.
Take care and keep up the good work.
Sincerely,
Michael
Director
TACTICS Private Investigations ©
---
We are very pleased to present your site with the Casey's Celtic Charm Silver Award. Thank-you for giving us the opportunity to review your work. Your effort and dedication shine throughout your pages. You are most deserving of many accolades, and for making the World Wide Web a much better and nicer place for us all.
Warmest Regards
Wendy & David
Casey's Celtic Charm
Winnipeg Canada
---
Congratulations......Thank you for applying for the Rhonda's Expression Award. I am pleased to present your site, "Extraplicity", with my Bronze Award. Your site was rewarded for originality, creativity, easy navigation, outstanding graphic design, award presentation meets the criteria for the award level given. Your site is truly a wonderful place, you should be very proud of the work you've done.
Once again, I thank you for the opportunity, and congratulations with your achievements!
Kindest regards,
Rhonda - Rhonda's Expressions Awards owner and manager!
http://homepages.kdsi.net/~rhonda/
---